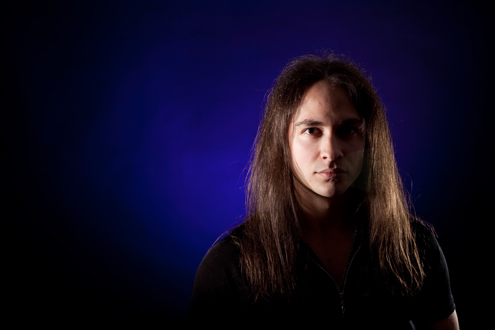 Birthday:
March 24
Equipment Used:
Ibanez guitars, Peavey amplification, Tama drums, Sabian cymbals
Favorite Bands:
Iron Maiden, Helloween, King Diamond, Megadeth, Rhapsody, 80s Metallica, Savatage, Ozzy Osbourne, Judas Priest, Gamma Ray, Vicious Rumors, Yngwie J. Malmsteen, Heavenly, Iced Earth, Manowar, Lost Horizon, Edguy, Avantasia, Crimson Glory, Dionysus, Pagan's Mind, Symphony X, Dark Moor, Angra, Virgin Steele, Running Wild, HammerFall, Children of Bodom, Mercyful Fate, Slayer, Sepultura, Tony MacAlpine, Loudness, Hibria, Steel Panther, The Magnificent, DGM, Galneryus
Favorite Albums:
1. Iron Maiden: Somewhere in Time
2. Fairyland: Of Wars In Osyrhia
3. Rhapsody: Symphony of Enchanted Lands
4. Heavenly: Sign of the Winner
5. Helloween: Keeper of the Seven Keys – Part II
6. Dream Theater: Images and Words
7. King Diamond: Abigail
8. Rhapsody: Legendary Tales
9. Iron Maiden: Powerslave
10. Vomitron: No NES for the Wicked
For more in-depth music lists, see Joe's Rate Your Music page.
Influences:
For Guitar: Jake E. Lee, Mark Reale, Chriss Oliva, George Lynch, Yngwie Malmsteen, Akira Takasaki, Tony MacAlpine, Kirk Hammett, Jorn Viggo Lofstad, Ross The Boss, and the twin guitar attacks of Iron Maiden, Helloween, Judas Priest, King Diamond, Megadeth, Vicious Rumors, Angra, Hibria, Mercyful Fate, and Gamma Ray.

For Drums: Lars Ulrich, Igor Cavalera, Ingo Schwichtenberg, Nicko McBrain, Mickey Dee, Deen Castronovo, Aquiles Priester, Christian Nyquist, Mike Portnoy, Neil Peart, Vomitron.

For Composing: Steve Harris, Kai Hansen, King Diamond, Luca Turilli, Dave Mustaine, Tobias Sammet, Nobuo Uematsu, Kinuyo Yamashita, Hidenori Maezawa, Koji Kondo, Naoki Kodaka, Andrew Lloyd Webber, Alan Menken, Vince DiCola, John Williams, Howard Shore.
Favorite Foods:
Angus Steak Tips, Salmon, Eggs, Chicken, Golden Potatoes
Favorite Drinks:
Iced Coffee
Hobbies/Interests:
Composing and listening to music, playing guitar, drums, and keyboards, bodybuilding, Nintendo, metaphysics, philosophy, astronomy, cosmology, fantasy, ancient civilizations, pre-historic creatures, 87-92 WWF, just about anything from the 80s, Family Guy, college football, tennis, ping pong, ruling, breaking hearts
Favorite Films:
The Fellowship of the Ring, The Two Towers, The Return of the King, The Hobbit (animated), The Lord of the Rings (animated), The Return of the King (animated), Star Wars, The Empire Strikes Back, Return of The Jedi, Braveheart, Clash of the Titans, The Neverending Story, Willow, The Odyssey, Predator, The Terminator 1 & 2), Back to the Future (1-3), Indiana Jones (1-3), Rocky (1-4), Jurassic Park, Flight Of Dragons, Jaws, Forest Gump, Army of Darkness, The Lion, the Witch, and the Wardrobe (Animated), The Brave Little Toaster, The Secret of NIMH, pretty much every animated Disney Movie, Airheads, Fletch, Dumb and Dumber, The Big Lebowski, Robin Hood: Men in Tights, Office Space, all National Lampoon's Vacation movies, Tommy Boy, Kingpin, Monty Python and the Holy Grail, Up in Smoke, Billy Madison, Pee Wee's Big Adventure, TMNT, King Kong (original), Treasure of the Lost Lamp, Time is Money
Favorite Video Games:
NES: Zelda 1 and 2, Final Fantasy, Dragon Warrior 1-4, Castlevania 1-3, Mega Man 1-3, Batman, Contra, Life Force, Tecmo Super Bowl, Powerblade, Wrestlemania Challenge, Double Dragon, Nintendo World Cup, Super Mario Bros 1-3, TMNT 2 (The Arcade Game), etc;

SNES: Zelda (A Link to the Past), Final Fantasy 2, 3 and Mystic Quest, Super Castlevania 4, Gradius III, The 7th Saga, Rock n' Roll Racing, Super Mario Kart, Street Fighter 2
Favorite Quotations:
"Heavy metal is more than a religion…it's the only way to live" -Joey DeMaio

"Don't worry about the horse being blind…just load the wagon" -John Madden

"Everything looks impossible for those who never try." -Ultimate Warrior

"Genius is one percent inspiration and ninety-nine percent perspiration. " -Thomas A. Edison

"For me, it is far better to grasp the Universe as it really is than to persist in delusion, however satisfying and reassuring." -Carl Sagan

"All we have to decide is what to do with the time that is given to us" -Gandalf
Favorite Books:
"The Hobbit" by J.R.R. Tolkien

"Dragon's Of Autumn Twilight" by Margaret Weiss and Tracy Hickman

"The Origin Of Species" by Charles Darwin

"The Principia" by Sir. Isaac Newton

"Oh Say Can You Say?" by Dr. Seuss
Life Philosophy:
Live.